Research Robot Platform

Back
| | | |
| --- | --- | --- |
| Product Name | : | Reseach Robot Platform |
| Product Code | : | ROBOTIS Manipulator |
| Price | : | RM 0.00 |
| Availability | : | Yes |
| | | |
Product description:
Robotclub® Malaysia is the Official Distributor of

ROBOTIS Manipulator

in Malaysia.
Features
DC Motor + Controller + Driver + Sensor + Cycloid Reduction Gear
Minimized module size with the self-developed small, lightweight, cycloid reduction gear
High weight to output rate (0.05Nm/g)
Precise control and low backlash
Incremental encoder and contactless magnetic encoder for absolute positioning
Low backlash of 3~4arcmin
Performance data provided, tested by KOLAS (Korea Laboratory Accreditation Scheme)
Torque control using current sensor
High current sensing algorithm and current feedback control
Position, speed, and current control using an algorithm
Easy development environment
Provides various solution examples (C++, LabVIEW, C#, eclipse, JAVA, etc.)
Experiment with kinematics and dynamics
Design and research two-armed robot system
Industrial Field Operation
Test and examination equipment
*

Multi-purpose, low-cost manipulator

*

6 DOF (built with DYNAMIXEL Pro)

*

Modular structure for easy maintenance

*

Lightweight design for easy placement and mobility.

*

Endures payload suitable for small to mid scale operations.

*

Suitable for repetitive and high precision operation
*

Manipulator-H (fully assembled) x 1

*

Extra cable (4P, 2P) x 1 set

*

Screw Set

(WB M2.5 and others)

x 1

*

USB memory

(SDK, Quickstart)

x 1

*

R

epeatability (mm) - ±0.05

*

Speed (Each joint, deg/sec) - 180

*

Rated voltage (VDC) - 24

*

Communication - RS-485 (Multi Drop Bus)

*

Power (Joint) - 200w : 2EA, 100W : 2EA, 20W : 2EA

*

Software - ROBOTIS Manipulator (SDK)

*

Controller - PC (Not Included)
*
Arm access communication protocol library and example
*
Arm control parameter setting and monitoring example
*
Kinematics library (FK, IK) and examples.
■

Actuator

Configuration

■

Actuator

(DYNAMIXEL PRO) Description
■ Control Environment, LINK
■ SDK Manual, LINK
■ Drawings, LINK
■ e-Manual, LINK
Manipulator Base Plate
Description

This base plate made of aluminum is used to fix the ROBOTIS Manipulator-H to a table.

Use a clamp or the holes on the plate to fix onto the plate. [Clamp not included]

Base Plate (450mm x 330mm) x 1 - Weight 2.15kgs

Angle Frame x 2 - Weight 30g/ea

Wrench Bolt (WB M3*8) x 30
1. Fix the '
ㄱ
' shaped angle with the bolt to the Manipulator joint #1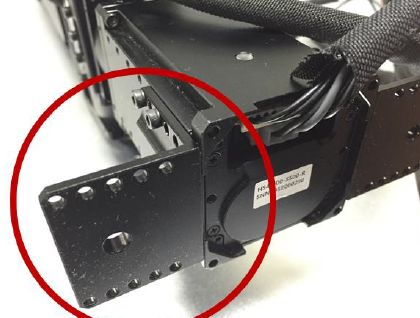 2.
The photo on the left is the external wiring for the arm. Label #1 shows a
pair of 4P cables and power connector; these connect to joint #1 as shown
on the right picture.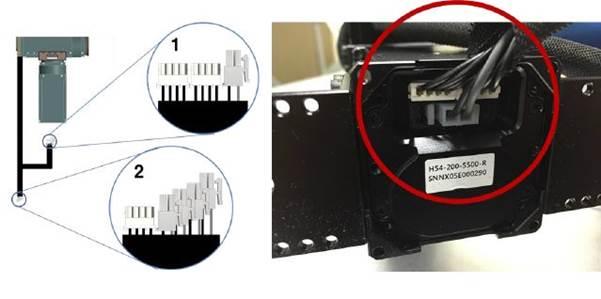 3.
Once the connections are complete, fix the arm to the base plate as shown
on the photo below.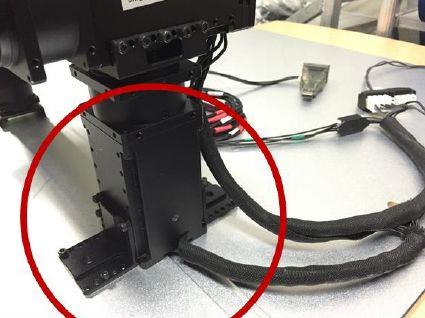 4.
Label #2 shows a 4P connector and 4 power connectors and these connect
to the power expansion hub and the 4P cable connects to the extension.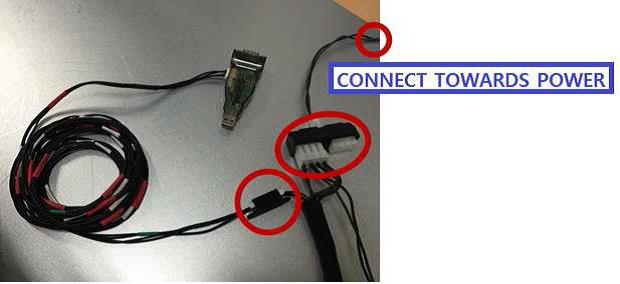 5.
Connect the USB2Dynamixel to the hub with the 4P cable; connect another
port of the 4P hub to the extension.
ROBOTIS Manipulator
-Reseach Robot Platform