Back
| | | |
| --- | --- | --- |
| Product Name | : | Do you know ROBOTIS STEM? |
| Product Code | : | Education Robotics Kit |
| Availability | : | Yes |
| | | |
Product description:
ROBOTCLUB
® Malaysia is

Robotis's

Exclusive Distributor

in Malaysia since 2008, we supply, distribute and as training provider of ROBOTIS STEM kit in Malaysia.
ROBOTCLUB® Malaysia using ROBOTIS STEM Kit for K-12 education in Malaysia especially for the high school students. There are two (2) levels in the ranges of products, each level transfer valuable knowledge in guiding younger inventor to develop their robotics skills. Each levels consists of a Teaching Book which you difficult to find it from other robotics kit.
ROBOTIS STEM Kit is using at international schools, vocational schools / college, Technical schools / College, MRSM, undergraduates in Malaysia in their creative and hands-on curriculum. It has been proved as an effective study for the students.
ROBOTIS STEM Kit is the best robotics kits using in the class which provides an organized learning systems by blending Science, Technology, Engineering & Mathematics.

For a more exciting robot learning experience, parts are developed to be compatible with OLLO parts.

ROBOTIS STEM provides various learning points and challenges.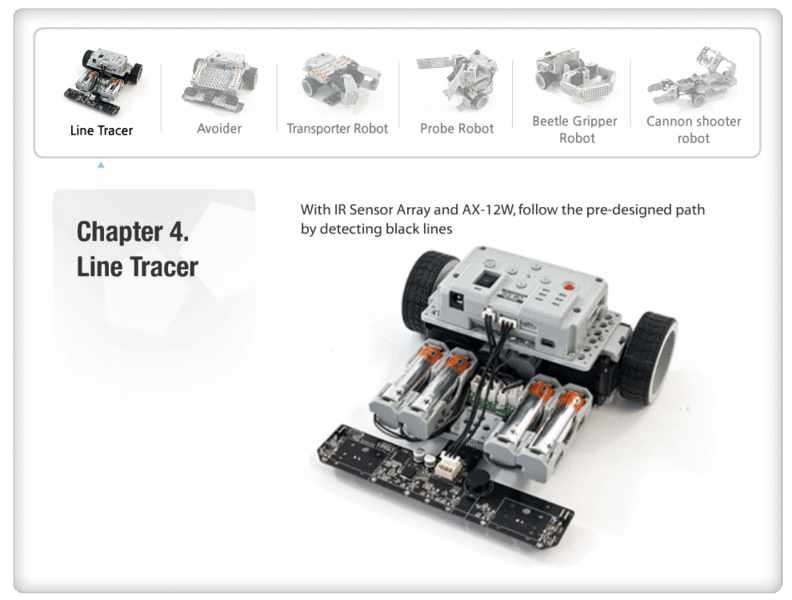 Newly designed AX-12W and IR Sensor array are perfect for the robot competition.


Use the same program you learned in class for various robot competitions!

ROBOTIS STEM builds 16 example robots with two packages (total of 48 classes)

The curriculum helps you learn and understand STEM progressively through the robot learning process. It consists of an 'introduction,' 'theory,' 'building,' and 'application.'
Levels of ROBOTIS STEM Kit
Solution for Learning Centers / Schools / Undergraduates / Competition:
Education Robotics Kit
-Do you know ROBOTIS STEM?